About Berg & Larsen
BERG & LARSEN is a world wide ship's chandler, providing reliable sourcing and purchasing support to ship-owners and ship-operators worldwide. We supply technical spare parts for equipment onboard commercial ships, large and small, such as cargo vessels, cruise ships, offshore vessels, fishing vessels, supply boats etc.
Founded in 1794, Berg & Larsen is recognized as one of the oldest ship suppliers in the world still in business. To have survived well over 225 years speaks quite clearly of our staying power.
We have offices in Denmark (Head Office), Netherland, Malaysia, Singapore, Korea, Japan and more offices on the drawing board.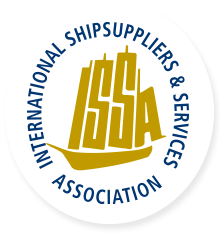 Our warehouses are located in Denmark, Netherlands, and Korea.
Our experienced team is ready to serve you with speed and care, from processing your price inquiry to offering you the most cost-efficient solution for your spare parts requirements.
Berg & Larsen A/S is a founding member of
I.S.S.A. – International Ship Suppliers & Services Association founded in 1955.